Your Resource for All Things Housing
We hope you've started to settle in to your new home! In this new environment, you're bound to have questions about your residence hall, dining, and services we provide, among other things! Check out our
Resident Guide
, a hub full of resources to help you have a successful year, to get these questions answered.
Taking Food To-go
Wondering what the
Ticket to Takeout Program
offers? In addition to one green reusable to-go container for your food, you can also receive disposable containers for your soup and drinks! All food must fit inside the containers with the exception of one piece of fruit and a cookie or dessert bar.
House Fellows & Your Community
Hopefully by now you have had a chance to meet your House Fellow
(HF)
and other HFs in your building or community. House Fellows are typically undergraduate student staff members that
help keep our communities safe
and are here to support residents during their experience living on campus. They are also responsible for addressing concerns, potential policy violations, and they want to make sure you have a successful year in the residence halls.
Open Forums with UWPD
Join the
UW–Madison Police Department
(UWPD)
for a fun and engaging hour of connecting with the campus community at one of their open forums. There are two options you can attend:
Thursday, September 22
at 6pm at the Carson Gulley Center or on
Wednesday, September 28
at 6pm at Gordon. Have questions about crime on campus? Interested in hearing about how UWPD trains its officers? Nothing is off-limits – this is your chance to ask questions and get direct answers and feedback from UWPD. Bonus: there will be pizza!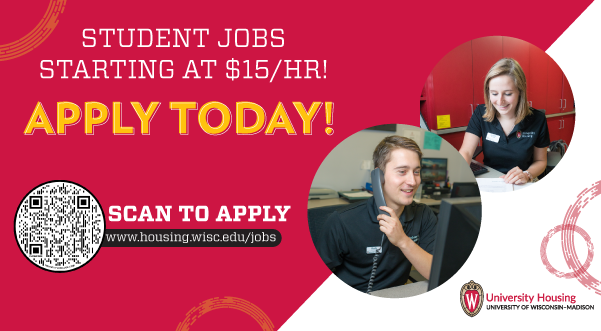 Work With Bucky!
A job with University Housing is a great way to meet friends, become an important part of the UW community, and
work close to where you live
! You'll gain valuable life skills which will help you succeed in your career and life. University Housing offers flexible schedules around your classes, student discounts in dining halls, and —
$15.00 per hour starting wages!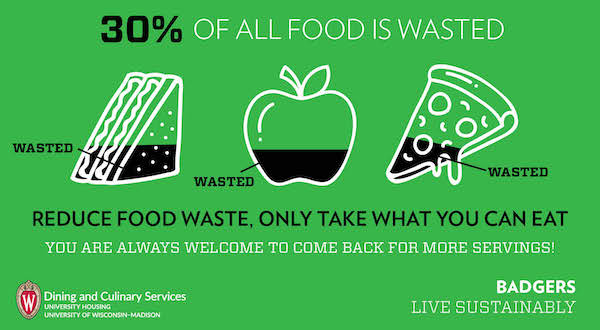 Help Reduce Food Waste
Project Drawdown
lists "Preventing Food Waste" as the #1 action that individuals can take to reduce climate impacts, and it's estimated that the average college student wastes around 140 pounds of food each year. Try practicing these
5 steps
to reduce personal plate waste.
Latinx Heritage Month: Expression Beyond the Margins
The Latinx Community continuously demonstrates its vibrant culture within and outside the borders set on our identities and histories. Speaking different languages, practicing different traditions and beliefs, the community regularly gets put into categories that don't quite fit.
Latinx Heritage Month
at UW–Madison will celebrate breaking out of this with dances, performances, embroidery, and many other expressions of the community.
Return to Housing Next Year
Each year, many students choose to
#LiveWithBucky
and live on campus in University Housing so they have more time for the things that matter to them, like studying, friends, and fun. As you research your living options for next year,
consider all the ways living on-campus sets you up for success.
Our process to return to the residence halls will start in late October.
The Bucky List
Have you checked anything off
The Bucky List
yet this semester? The list is just some of Bucky's top picks for what to do in the City of Madison, at UW-Madison, and in their surroundings. It gives you ideas to kick-start your Wisconsin Experience outside the classroom and set your college career up for success. Plus, it's just plain fun!
Late Night: Ceramics Night & Adopt-a-Rock
Wondering what to do this Friday and Saturday? Wisconsin Late Night has you covered! Friday night, pick out your very own
ceramic project
to paint at Dejope. On Saturday at Gordon, you can find your newest best bud – a rock!
Pet rocks
make the best friends.
UW–Madison Campus Events & Activities