As we start the semester with a large group of students on campus, our Dining & Culinary Services team is working hard to make the experience as quick and convenient for residents as possible. Our
September dining service updates
offer tips on avoiding lines, information about seating, some upcoming key dates, and a note about food supply changes.
Housing COVID-19 Updates
Now that the semester is underway, we wanted to share a few
important updates
with you related to COVID-19 guidelines. We continue to work closely with campus, local, and state health officials to help keep our community healthy. Take a moment to review how you can keep yourself and our community healthy, and what to do if you experience symptoms or if you or a roommate/close contact has tested positive.
Need to Change Your Dining Plan?
Have you found your dining plan isn't quite the right fit for you? If so, you can adjust your dining plan in your
My UW Housing portal
from September 17–October 3. New dining plan selections will take effect on October 9. Bills or credits for changes will be issued October 18. We will not have any other opportunities to change your dining plan later in the academic year after that period.
Celebrate Sustainability
Join us for
Sustain-a-Bash
on Friday, September 16 from 3–5pm on the Gordon Lawn! Organized by University Housing and the
Office of Sustainability
, Sustain-a-Bash introduces new residents to sustainability through a celebration of campus and community resources. There will be locally sourced food, a raffle, awesome demonstrations, and so much to learn!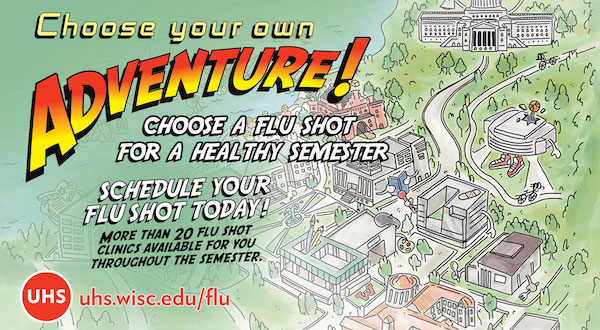 Get a Free Flu Shot on Campus
Avoid the flu this year and keep your residence hall community healthy with a free
flu shot
available through
University Health Services
(UHS).
There are more than 20 clinics available through the semester, so don't miss your chance!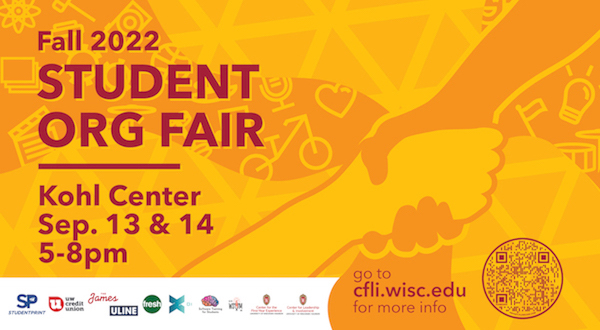 Find Your Passion and Pursue Your Interests
Attend the
Student Organization Fair
, happening September 13th and 14th from 5–8pm at the Kohl Center. You'll be able to find information about and make connections with Registered Student Organizations that align with your interests, as well as build lifelong friendships and enhance your academic experience.
Take Care of Yourself This Year
University Health Services
(UHS)
is here to support your health while you're in college. This week, on Thursday, September 15, set your space up for wellness with
Crafts & Conversation
,
where you can make a painting and explore ways to set up your home to support your wellbeing and academic performance.
Be a Resident Sustainability Ambassador
Interested in sustainability?
Apply to be a Resident Sustainability Ambassador
by September 21st! University Housing is looking for students who would like to serve as a voice for sustainability in their hall. Join us for the kickoff event on September 20th at 4pm in the Laines Lounge at Smith Residence Hall to learn more, enjoy snacks, and get involved! Contact
sustainability@housing.wisc.edu
with any questions.
Late Night: Silent Disco & Name That Tune
Catch Wisconsin Late Night this weekend with two great events! On Friday, stop by Dejope for the most unique disco party you've ever been to –
silent disco
.
Head to Gordon on Saturday for a throwback version of
Name That Tune
. Prove your musical knowledge and have a great evening with friends.
UW–Madison Campus Events & Activities